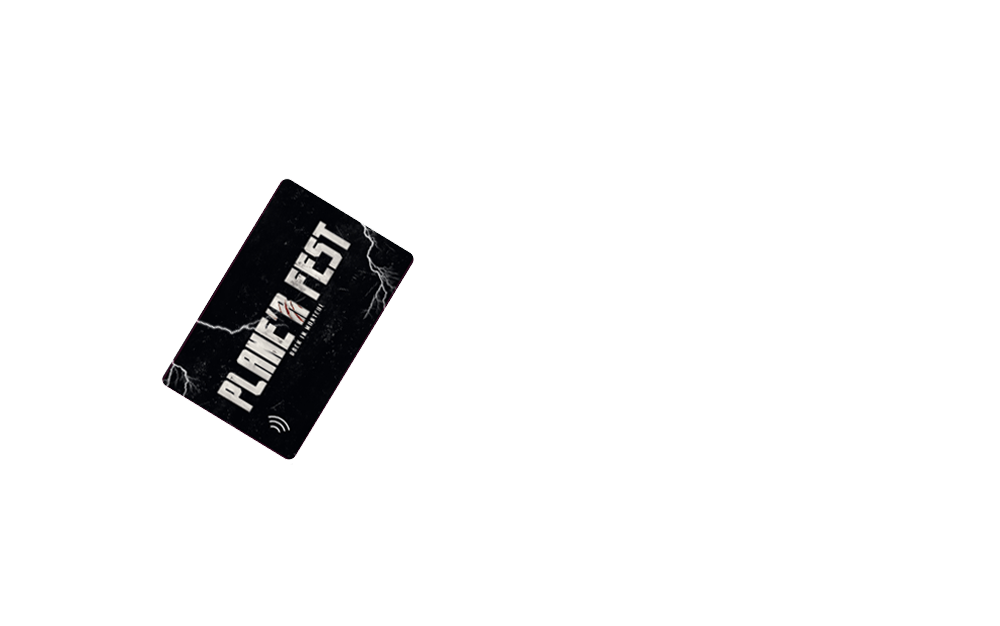 This year, Plane'R Fest is going 100% digital!
For your purchases at the bar, foodtrucks and merchandising stands of the Plane'R Fest only, payment will be done via a cashless card.
Independent and band foodtrucks and merchandising stands will accept their own payment methods and will not use the Plane'R Fest cashless card.
Benefits: simpler reloading at the counter, faster orders, and as a bonus, you won't scatter your half tokens again and will be sure to order your beer (phew!).
The cards are sold for 1€ and can be kept for future editions (they are multifunctional and can be used to defrost your windscreen, clean the bottom of your sink, cut a piece of bread, wear it as a pendant, etc… Avoid using it as a beer mat, too small, it gets spilled…).
Refund request possible between 04/07/2022 and 17/07/2022. After this date, the association Les Sonorités de Montcul thanks you for your donation and will collect the remaining money which will be used to put on the next edition.
Important: in order to get your money back or in case of loss / theft, a code will be printed on your first ticket. You should therefore keep this first ticket as carefully as your pint if you wish to be reimbursed. Remember to take a photo of it if you are the kind of person who loses a piece of paper during a hug in a wall of death.
WHAT IS IT?
Cashless is a contactless payment system that allows you to pay in few seconds for your purchases on the festival area (bar, meal zone, and Plane'R Fest merchandising stand run by the association Les Sonorités de Montcul). All you have to do is to use the cashless card.
Bank cards are accepted for cashless reloading (we also take coins) and independent stands that wish to accept it.
Benefits:
First of all, it's a nice card!
Fast and easy payment (no more tokens to count and keep in your pockets)
Reload in a few moments during the festival
Your money is secured and transactions are protected
CREDITING YOUR CASHLESS CARD
During the event, you can reload your card at the Cashless Point ("Point Cashless" in french on the festival area) present on the festival. You will find it just next to the bar.
There will be several bank card counters and a single cash counter to credit your card.
You can reload it as many times as you like during the event.
GETTING YOUR CASHLESS CARD
You will have the possibility to get it at the Cashless Point for the modest sum of 1€, at the first loading.
LOSS OR THEFT
You can request the blocking of your card by going to the Cashless Point.
You will need to provide the code from the first loading ticket of your card. If you have not kept or lost the code indicated on this ticket, it will be impossible for us to block it. In this case, your card is like your wallet: if you lose it, the money stored on it will also be lost.
Serenity tip: remember to take a photo of your first loading ticket, so that you can keep the code associated with your card. This could be useful if you lose it.
REFUND
Refund requests were closed on 17 July 2022 at midnight. Remaining money on cashless cards is collected by the association Sonorités de Montcul and will of course be used to set up the next edition. We promise you a lot of fun and insanity for this new edition! Thanks to all of you!